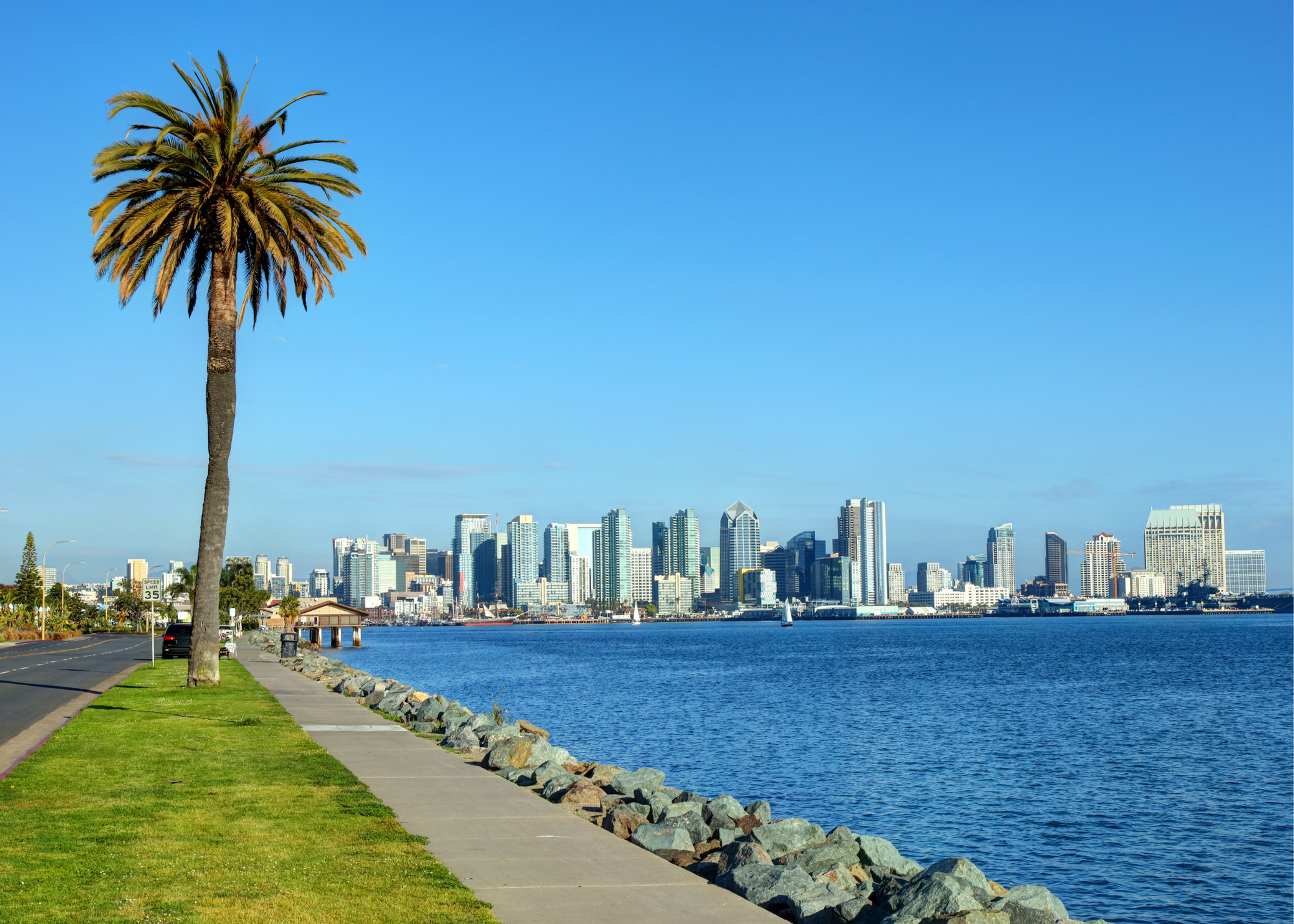 18 Jul

The Best Places To Live In San Diego For Young Professionals
Planning a move to San Diego and not sure where to start? Here are the best San Diego neighborhoods for young professionals.
San Diego is a dream destination for single millennials and young professionals for good reason. With incredible year-round weather, beautiful beaches, a lively nightlife scene, and mouthwatering cuisine, this awesome SoCal destination offers many perks you won't find anywhere else. Want to know which San Diego neighborhood is your best match? Consider starting with this list curated especially with San Diego's young people in mind.
WHERE DO YOUNG PROFESSIONALS LIVE IN SAN DIEGO
1. GASLAMP QUARTER, DOWNTOWN SAN DIEGO
Are you the sort of San Diego millennial who wants to be in the middle of all the action at all times? Consider searching for an apartment in the Gaslamp Quarter, which is the heart and soul of the downtown area. This vibrant San Diego neighborhood is well-known for its dining and entertainment options and offers over 200 restaurants, clubs, galleries, and shops.
Besides featuring an active lifestyle, what makes Gaslamp Quarter one of the best places to live in San Diego for young adults is the abundance of cool condos, townhomes, and apartments available for rent for relatively affordable prices. Plus, most of your neighbors will be people in your same age bracket, how cool is that?
2. LITTLE ITALY, DOWNTOWN SAN DIEGO
Another awesome downtown spot to hunt for millennial apartments in San Diego is Little Italy. This chic, pedestrian-friendly San Diego neighborhood is packed with trendy bars, boutiques, piazzas, music venues, and restaurants with bustling patios. In other words, Little Italy is a magnet for San Diego's young people, and if you thrive in a buzzing environment, then you'll fit right in.
Once you start calling Little Italy your home, you'll never get bored here. A model urban San Diego neighborhood rooted in over a century of history, Little Italy today hosts new Italian American and non-Italian business owners and is a hub for creative builders and architects initiating new developments.
3. SOUTH PARK
Looking for a place just a bit more residential? Consider checking out the charming urban neighborhood of South Park. Popular with young professionals and small families, this historic San Diego neighborhood provides a good balance of homes and entertainment spots. You'll find restaurants that range from innovative vegan food to upmarket Italian eats, tree-lined streets, indie boutiques and cafes, and parks with stellar views over the downtown skyline.
If you're a pet parent, you'll love how accommodating South Park is to dogs. Other great perks of this awesome San Diego millennial hotspot include its diversity, welcoming nature, and amalgamation of large urban vibes with the small community nostalgia.
4. NORTH PARK
An article listing the best places to live in San Diego for young professionals wouldn't be complete without mentioning North Park. One of the hottest San Diego neighborhoods and a spot that's been on the upswing for the last decade, North Park bursts with creative energy. Hipsters, young professionals, and students frequent its coffee shops and boutiques, brunch spots, taquerias; sushi lounges dominate the dining scene; live rap, rock, and electronica are often performed in the clubs.
North Park also has a high walkability rate, great public transportation access, and a slew of nearby trails for those who like cycling in their free time. After all, this San Diego neighborhood is located just north of Balboa Park, so there is no doubt about the location being A+.
5. PACIFIC BEACH
A more relaxed San Diego neighborhood for young professionals is Pacific Beach. Perfectly capturing the surf, sun, and sand side of California culture, P.B. is a laid-back community that'll charm outdoorsy millennials.
Trendy hotel bars and casual cafes line the Pacific Beach Boardwalk; women's clothing boutiques, yoga studios, and casual dining spots can be found in Mission Boulevard; the surrounding streets and Kate Sessions Park feature sweeping views of the city and San Diego Bay. Last but not least, Pacific Beach is also the best place to live in San Diego for young professionals who love to surf—it's home to Tourmaline Surfing Park, which is a surf-only beach.
6. BAY PARK
Bay Park is another San Diego neighborhood ideal for beach lovers. Also known locally as Mission Bay Park, this beachside community offers 27 miles of shoreline and a variety of other perks that make it perfect for San Diego millennials.
Typically drawing in young professional residents, Bay Park is a hilly neighborhood that provides picturesque views of the skyscrapers and the ocean. Being in one of the most expensive places to live in San Diego, homes are pricier in this neighborhood, but with the amazing weather, great vistas, abundance of entertainment options, and excellent schools, you'll know exactly why you're paying a high price.
7. HILLCREST
As the epicenter for San Diego's LGBTQ+ community, Hillcrest has always been an edgy and wild destination in town. This San Diego neighborhood was first established in 1910, but began attracting residents around the 1970s and forward. You'll love Hillcrest if you appreciate living somewhere packed to the rim with unique restaurants, stores, cafes, nightlife locations, businesses, and bars.
As it is mostly inhabited by San Diego millennials, a lot of energy that Hillcrest is known for is created by its younger population. Pay a visit to this neighborhood during the Pride Block Party and you'll know exactly what I mean.
8. MISSION VALLEY
Three words to describe Mission Valley would be central, affordable, and convenient. Centered around the San Diego River and divided into Mission Valley East and Mission Valley West by State Route 163, this San Diego neighborhood guarantees you'll never be far from whatever you need at all times—whether that's shopping, entertainment, work, or something else.
Mission Valley's cool restaurants and boutiques may attract San Diego's young people, but its convenience, good schools, and opportunities for fun also bring in plenty of new and growing families. All in all, Mission Valley has a positive real estate outlook and is definitely a viable option for first-time investors.
9. NORMAL HEIGHTS
Last but not least, Normal Heights is a lively residential San Diego neighborhood to call home. Don't be fooled by the normal in its name—this vibrant and diverse destination is anything but.
Find hip cafes and restaurants along Adams Avenue, attend concerts at Trolley Barn Park, take part in outdoor movie screenings at Ward Canyon Park, and spend your days around other San Diego young people and professionals. In fact, the median age of this San Diego neighborhood is 35, and well over half the population is single, so there are plenty of mingling and networking opportunities for young adults.
https://www.california.com/the-best-neighborhoods-in-san-diego-for-young-professionals/
If you or anyone you know is looking to buy or sell their home, give us a call!
760-214-1802