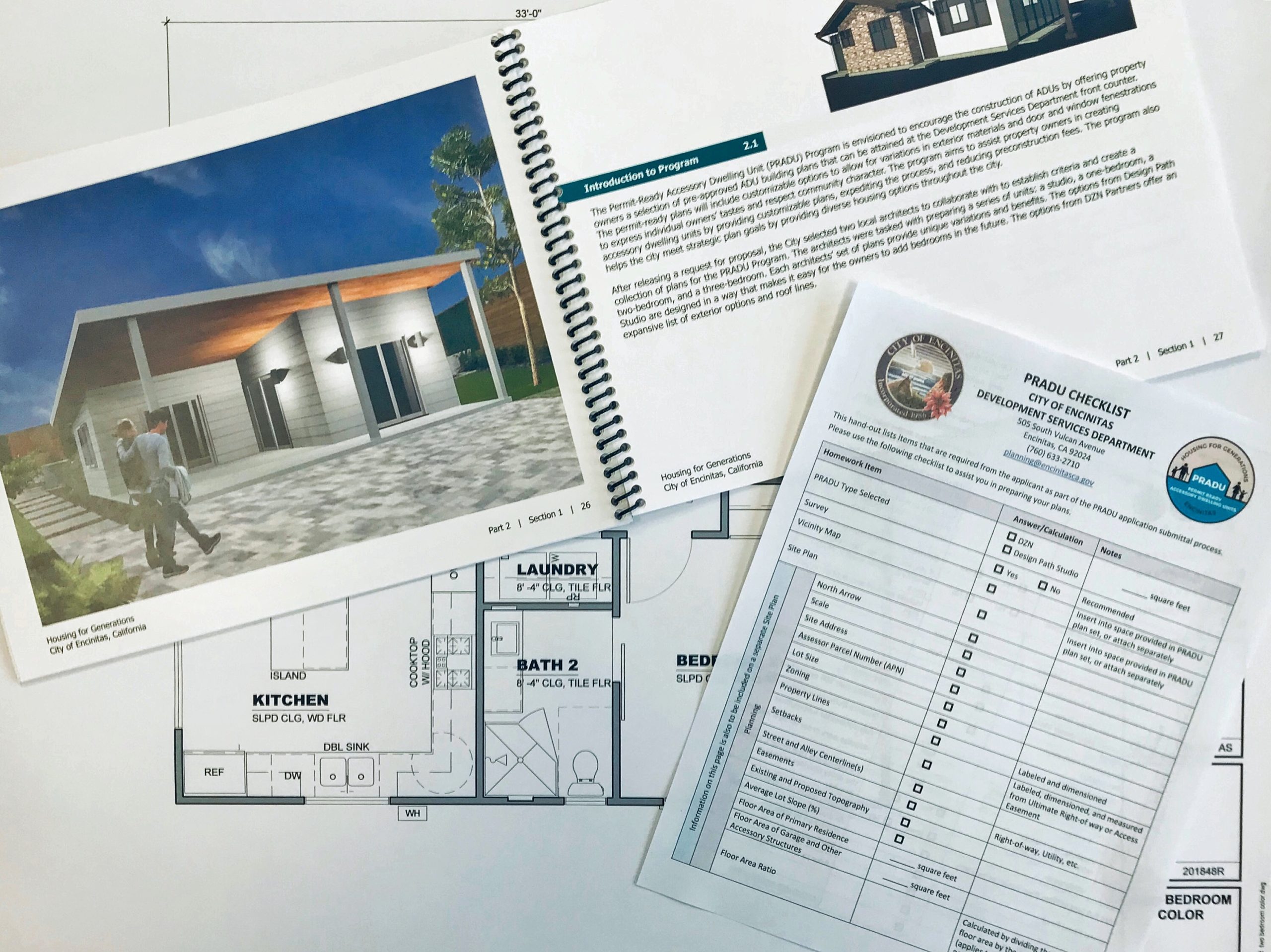 18 Dec

ADU

Episode 1 – City of Encinitas Accessory Dwelling Unit (ADU) Program – Saving you thousands!

Episode 2 – Understanding the Value ADU's Add to Your Property & Financing Options to Build

Episode 3 – A Value Add Resource You Won't Want to Miss!

Welcome to 'Nadia on the Run'

An inspiring video series featuring community business leaders, entrepreneurs, and local favorites from around San Diego County.

Nadia Colucci, a San Diego native and seasoned Real Estate Agent with North Compass Realty, is joined by Geoffrey Plagemann, Associate Planner for the City of Encinitas. Geoff and all of the folks at the city have been diligently working on developing an easy, affordable and accessible way to add Accessory Dwelling Units (ADUs) to residential properties in the city of Encinitas.

On the first episode of this series, they dive into all of the FAQ's about ADUs in the City of Encinitas. What is an ADU? How big does a lot need to be? What are the restrictions? How much does it cost? Will it take forever to get approved and built? What are the advantages? You name it, they address it.

Of all of the land in Encinitas, 80% is zoned residential. That 80% is made up of roughly 25,000 detached single-family properties, and only 1,500 already have established ADUs… bringing a whopping 23,500 properties that are still eligible for ADUs! Chances are, if you live in Encinitas, you are a part of the 23,500 people who could be eligible to add an ADU to their property.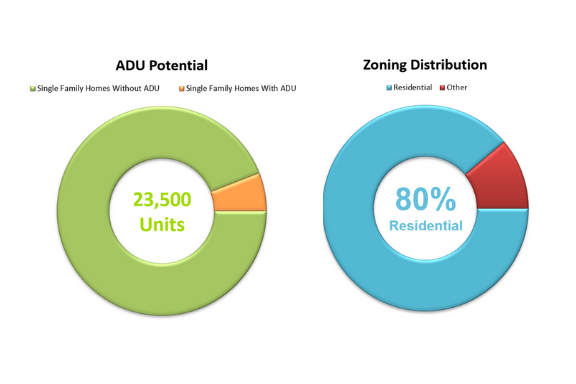 The vision of the Permit Ready ADU Program (PRADU) is to encourage the construction of ADUs by offering property owners a selection of pre-approved ADU building plans. While some site specific design work is required, by utilizing one of these existing plans, a property owner can dramatically reduce pre-construction costs.  Additionally, the PRADU program allows for expedited building permits; meaning that the permit fees are waived and the entire process is "fast-tracked". Overall it is an amazing, thoughtful and unique program put together for the benefit of Encinitas residents.
Attached are the 8 different PRADU floor plan options that were referenced on the episode.
Design Path Studio:
Design Path offers floor plans ranging from 350-935 sq.ft. with multiple different exterior elevations. What makes Design Path's floor plans exclusive is that the designer, Yvonne St. Pierre created each plan as "modular" designs with connection points to make it easy to grow your space and add on in the future.  For instance, you can start small with a 350 sq.ft. studio and should your needs change in the future, Design Path's floor plans easily expand from a studio into one, two and three-bedroom ADUs. The thoughtful designs have connection points throughout so that the windows, doors and roof pitch easily line up with the additions.  Design Path Studio also offers various exterior elevations to coordinate with the look of your existing home, making the addition of an ADU look cohesive.
DZN Partners Architectural Design:
DZN offers floor plans from a studio up to a 3 bedroom option as well.  The floor plans range in size from 224 sq.ft. up to 1,199 sq.ft. DZN offers the smallest and the largest floor plans of the 8 total in the PRADU program. Each design and floor plan offers various exterior options giving you the ability to choose an aesthetic that best suits your existing home.  The wide range of floor plan sizes is helpful to fit almost any size lot.
As Nadia & Geoff discussed in the episode, every individual and their situation is unique. Before you go down to the city, give Nadia a call and she can help you walk through the first steps, whether it is finding a contractor, needing a trusted lender, or just simply curious about your options. Nadia can easily be reached at 760-214-1802 or by email at [email protected].
For more information on the PRADU Program or the City of Encinitas:
Follow @CityOfEncinitas or check out EncinitasCA.gov!
Episode 2: Cost of an ADU
Nadia Colucci, a San Diego native and seasoned Real Estate Agent with North Compass Realty is welcomed by Kevin Allin and Christian Alvarez. Kevin is a Real Estate Appraiser that has been in business almost 30 years, and Christian is a Mortgage Consultant who has been doing loans for over 20 years. Each of them are local experts in their field and help answer common questions pertaining to the financing and dollar value of adding an ADU to a property.     
The most common question people have is, can I afford it?  Both Nadia and Christian discuss the costs to build and financing options.  Of course, the cost to build an ADU all depends on the size and upgrades you choose, but Nadia has done the research for you.  She has reached out to a multitude of local contractors in the area and has put together a team of individuals who have stood out based on their experience, pricing, and professionalism. Depending on your lot, difficulty/ease of preparation, utility connections, bio-swell / drainage, and the finishes of your choosing, it is safe to assume a budget of $150K-$250K.
Christian reviews the many different options you have when financing, whether it be cash, equity line of credit, cash out refi, construction loan, etc.  He walks you through an example of an estimated $200K to build an ADU and applies it to a cash out refi.. He shows that by pulling $200K out of your home it will increase the monthly costs by approx. $1081. However, based on the average rents for the city of Encinitas, a one bedroom rents for approx. $2,000, which brings you $24,000 in revenue for the year. So, when factoring in the new monthly rental revenue that the ADU will bring, your monthly cash flow would be approximately $920, which would give you about a 5.5% ROI.  This is a generous return considering your investment is right on your property and something you are in direct control of!
Not to mention that adding an ADU offers you:
– Flexibility
– Tax Shelter
– Market Share
– Increases Your Property Value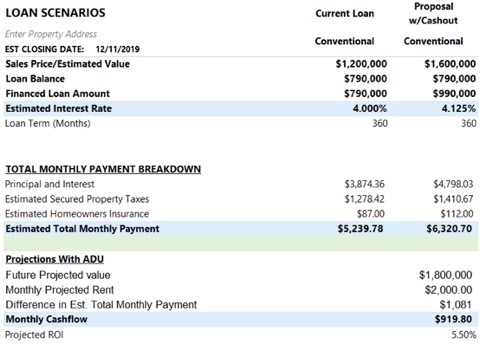 Kevin then shares the impact an ADU will have on a home's value. He roughly calculates that with the addition of a 450 sqft ADU; homes already valued in the $1.6-$2mil range would benefit from an additional $190K value to the home.  Again, not bad for something that has great rental potential or even the option to use it for personal use/extended family. The great thing is that ADU's offer a plethora of options based on each person's needs.  
With the rising interest and benefits of adding an ADU you'll start to see that cities throughout San Diego are beginning to lessen their restrictions in order to help make adding an ADU more feasible.  The City of Encinitas is on the forefront of this and if you are an Encinitas Resident interested in adding an ADU you've got a head start – tune in for all the details! 
Christian Alvarez, Secured Rate | 619-254-6515 | [email protected]
Kevin Allin, Anderson Appraisal | 858-273-3755 ext. 205 | [email protected]
Nadia Colucci is joined by Travis King, Principal of Casita Living, an innovative new company that is a one-stop shop for all of your Accessory Dwelling Unit (ADU's) needs.
Whether you are a homeowner or renter, you know there is a shortage of inventory here in California. That is why ADU's have been a hot topic over the past few months. The state of California has recently passed a law that severely loosens the original building restrictions, in the hopes that more people will add an ADU to their property. Although some cities have implemented programs to help you achieve that, some cities are still a bit behind.
Wasting no time, Travis dives into how Casita Living came about and what exactly it has to offer its clients. Casita Living is basically the perfect path to every homeowner's dream, earning rental income from an ADU that they don't have to pay to build or deal with any of the hassle!
Each Principal at Casita Living comes from a real estate development background, giving them the vast experience necessary to develop and push through this seemingly daunting process. Casita Living takes away all complexity, and minimizes all friction points when it comes to finding an architect, designing, permits, financing, building, etc. They do it all for you!
Nadia & Travis break down the process for Casita Living.
Initial Call – Representatives will collect information about your property.
Consultation – After reviewing the gathered information, Casita Living will conduct analytics on your property; they will schedule a site visit to review the property, and address the needs & desires of the homeowner.
Sign Agreement – Casita Living will present the homeowner with an agreement including estimates for construction costs, as well as an analysis of the potential rent & income they will receive.
Construction – They begin the work to design, permit and build the ADU.
Income – After construction is complete and a renter is screened & approved, the homeowner begins to experience the benefit of being a landlord without any of the hassle!
Casita Living is the one that is fronting the money to build the ADU, so they are the ones that can ensure the contractors show up and deliver when they are supposed to, instead of you having to triple check and track people down every step of the way.  They have a vested interest in this process and relationship going as smoothly as the homeowner does.
Basically, the best landlord situation ever! You collect the income, have the increase in valuation for your property and you don't have to deal with any of the problems.
What are you waiting for?  Contact us to find out how you can be a part of this one of a kind opportunity.
As always, for more information contact Nadia at 760-214-1802 or by email at [email protected].
Travis King
Thank you all so much for your support!
Continue following @NadiaOnTheRun and http://www.NadiaOnTheRun.com. If you enjoyed these episodes don't forget to SHARE them with your friends!
Remember to stay on the go San Diego with Nadia on the Run!