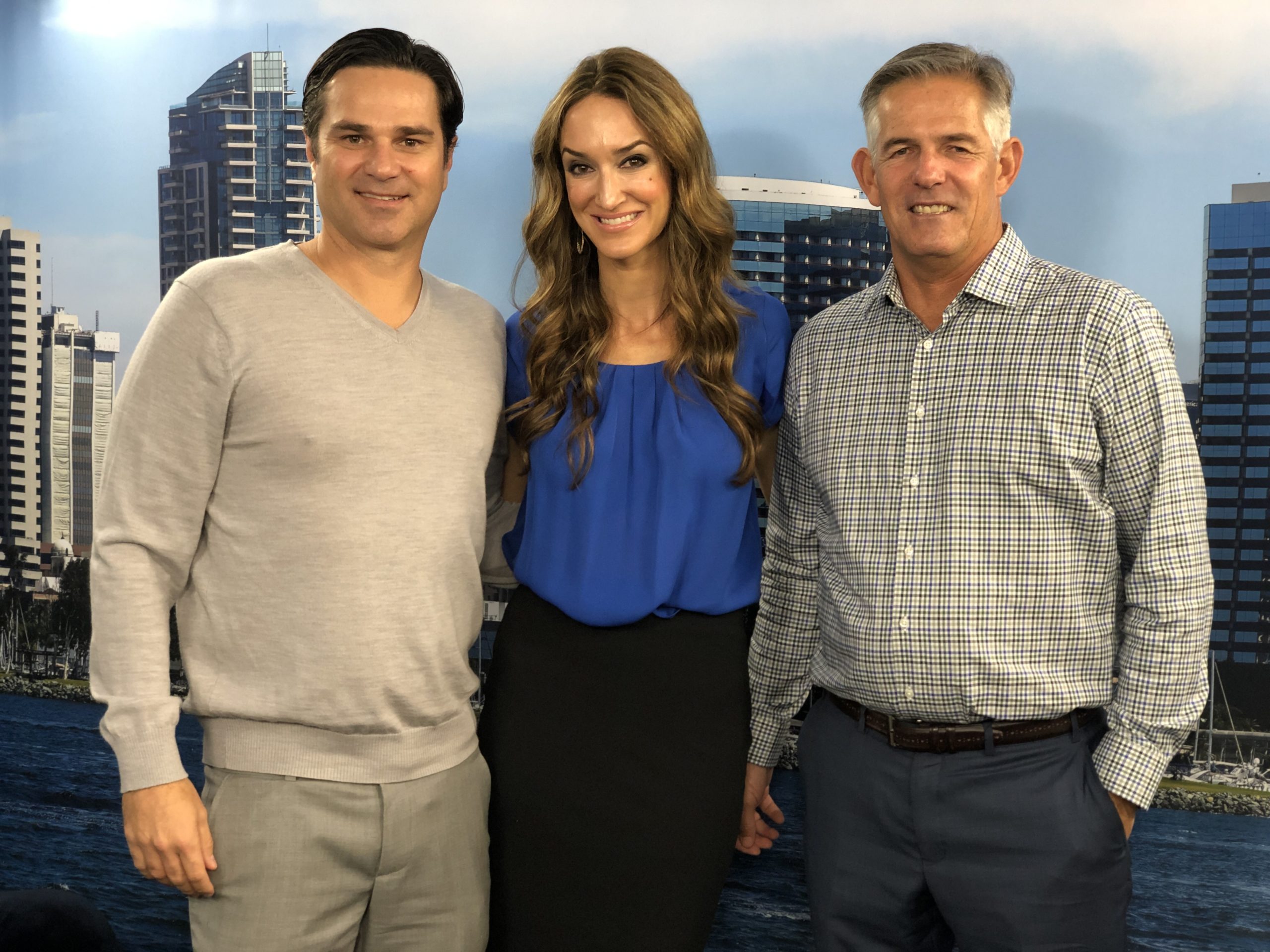 03 Mar

Nadia on the Run | ADU Costs

Welcome to 'Nadia on the Run'

An inspiring video series featuring community business leaders, entrepreneurs, and local favorites from around San Diego County.

Nadia Colucci, a San Diego native and seasoned Real Estate Agent with North Compass Realty is welcomed by Kevin Allin and Christian Alvarez. Kevin is a Real Estate Appraiser that has been in business almost 30 years, and Christian is a Mortgage Consultant who has been doing loans for over 20 years. Each of them are local experts in their field and help answer common questions pertaining to the financing and dollar value of adding an ADU to a property.     

The most common question people have is, can I afford it?  Both Nadia and Christian discuss the costs to build and financing options.  Of course, the cost to build an ADU all depends on the size and upgrades you choose, but Nadia has done the research for you.  She has reached out to a multitude of local contractors in the area and has put together a team of individuals who have stood out based on their experience, pricing, and professionalism. Depending on your lot, difficulty/ease of preparation, utility connections, bio-swell / drainage, and the finishes of your choosing, it is safe to assume a budget of $150K-$250K.

Christian reviews the many different options you have when financing, whether it be cash, equity line of credit, cash out refi, construction loan, etc.  He walks you through an example of an estimated $200K to build an ADU and applies it to a cash out refi.. He shows that by pulling $200K out of your home it will increase the monthly costs by approx. $1081. However, based on the average rents for the city of Encinitas, a one bedroom rents for approx. $2,000, which brings you $24,000 in revenue for the year. So, when factoring in the new monthly rental revenue that the ADU will bring, your monthly cash flow would be approximately $920, which would give you about a 5.5% ROI.  This is a generous return considering your investment is right on your property and something you are in direct control of!

Not to mention that adding an ADU offers you:

– Flexibility

– Tax Shelter

– Market Share

– Increases Your Property Value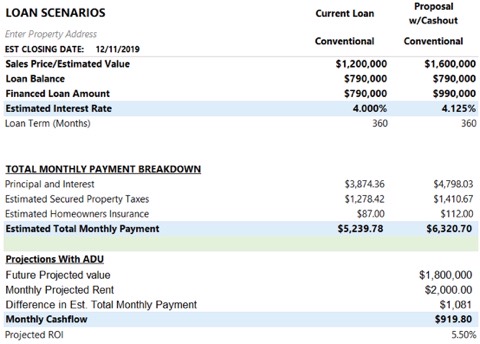 Kevin then shares the impact an ADU will have on a home's value. He roughly calculates that with the addition of a 450 sqft ADU; homes already valued in the $1.6-$2mil range would benefit from an additional $190K value to the home.  Again, not bad for something that has great rental potential or even the option to use it for personal use/extended family. The great thing is that ADU's offer a plethora of options based on each person's needs.  
With the rising interest and benefits of adding an ADU you'll start to see that cities throughout San Diego are beginning to lessen their restrictions in order to help make adding an ADU more feasible.  The City of Encinitas is on the forefront of this and if you are an Encinitas Resident interested in adding an ADU you've got a head start – tune in for all the details! 
For more information contact Nadia at 760-214-1802 or by email at [email protected] and she will put you in contact with the right professionals. 
Christian Alvarez, Secured Rate
619-254-6515
Kevin Allin, Anderson Appraisal
858-273-3755 ext. 205
Continue following @NadiaOnTheRun, and http://www.NadiaOnTheRun.com and if you enjoyed this episode don't forget to SHARE it with your friends!
Remember to stay on the go San Diego with Nadia on the Run!