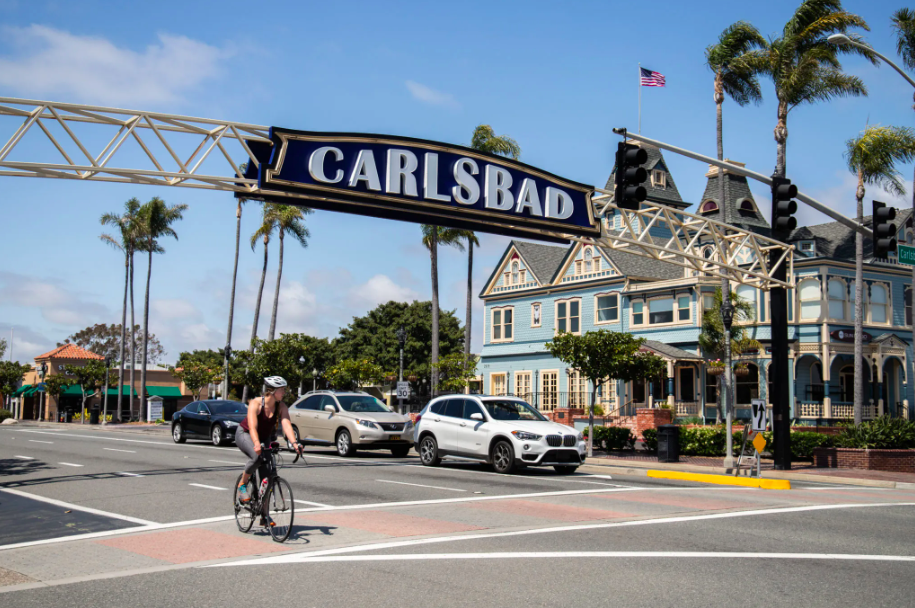 09 Nov

Top 10 Picks of Carlsbad, San Diego
Take a look at Carlsbad's Top 10!

VISIT LEGOLAND
Awesome awaits at LEGOLAND® California Resort! Enjoy more than 60 rides, shows, and attractions all geared towards young families with children ages 2-12. Whatever your age, at the LEGOLAND Water Park you'll have fun floating down a not-so-lazy river or splashing with your family at Wipeout Lagoon, plus the epic splash zone with fountains that shoot to the sky! Then chill out at SEA LIFE® aquarium with educational talks and up-close encounters with sea creatures including sharks, octopi, and rays. Stay and play at the amazing LEGOLAND Hotel or Castle Hotel, just steps away from the Resort entrance.
https://www.legoland.com/california/

NORTH CARLSBAD BEACHES
These beaches stretch from Oceanside border to Pine Ave, near Carlsbad Village. Jointly owned by the state and the coastal property owners along that stretch, north Carlsbad beaches are open to the public. However, they do not have any lifeguard services, restrooms, showers or other amenities. These north beaches can be accessed at Carlsbad Village Drive, Grand Avenue, Christiansen Way, Beech Ave and Rue des Chateaux.
https://visitcarlsbad.com/beaches/north-carlsbad-beaches/

THE FLOWER FIELDS AT CARLSBAD RANCH
Located in North San Diego County, a region with a rich history of growing flowers going back to the 1940's. The Flower Fields at Carlsbad Ranch is located less than one half-mile from the ocean, within five minutes of several prominent hotels and restaurants, and a short drive from two international airports (San Diego and Orange County).
https://www.theflowerfields.com/

CARLSBAD AQUAFARM
Carlsbad is home to Southern California's only oyster farm. Discover how Carlsbad Aquafarm protects the natural ecosystem, with a unique farm tour and fresh oyster tasting experience. The tour includes a Farm Discovery Walk, showcasing the techniques and equipment used to support the growth and harvesting of our homegrown oysters, as well as examples of how the farming process protects the natural ecosystem of the lagoon.
https://carlsbadaquafarmersmarket.com/

BUENA VISTA LAGOON
This Lagoon is the only freshwater lagoon in CA. and its 350 acres is home to dozens of varieties of migrant and resident waterfowl. Designated an Ecological Reserve by the California Fish & Game, the Buena Vista Lagoon is the home of the Buena Vista Audubon Society which operates a small but very informative Nature Center on the north edge of the lagoon. Two trails near the Nature Center offer many opportunities to see the lagoon inhabitants.
https://visitcarlsbad.com/outdoors/buena-vista-lagoon/

CARLSBAD SKATE PARK
Carlsbad Skate Park offers a mix of street and small transition skateboarding. This is a good skatepark for the beginner looking for a mellow place to skate.
https://visitcarlsbad.com/attractions/skateboard-park/

CARLSBAD TRIATHLON
Carlsbad Triathlon ranks in the world's top 5 longest running triathlons. It is a sprint distance race, consisting of a 1K open-water ocean swim, 25K bike and 5K run. The course begins at Tamarack Surf Beach, and follows the coastline of Carlsbad, past our scenic beaches, lagoons and wildlife preserve. It boasts an ocean swim, a rolling bike course and a smooth run for the finish.
https://visitcarlsbad.com/sports/carlsbad-triathlon/

HOSP GROVE TRAIL
Located in north Carlsbad, this trail is one of the most extensive in the citywide trail system. It winds through a huge grove of mature eucalyptus trees planted many years ago for the railroad industry with the intention for the wood to be used in the construction of rail lines. However, it was determined that the wood was inferior to other varieties and not harvested for that purpose. Years later, the city acquired the property and it is now enjoyed by hikers, picnickers, and nature enthusiasts seeking respite from the hustle and bustle of city life. The unpaved trail does climb to more than 100 feet in elevation and offers great views of the adjacent Buena Vista Lagoon and the Pacific Ocean.
https://www.carlsbadca.gov/departments/parks-recreation/trails/hosp-grove

PURE PROJECT CARLSBAD
Pure Project is a small batch, ingredient-centric craft brewery with a mission to build community and a reverence for beer as an agricultural product by staying true to our ethos of quality ingredients, sustainability, and attention to detail.

MUSEUM OF MAKING MUSIC
Founded in 1998 and opened to the public in March 2000, the Museum of Making Music celebrates the accomplishments and impact of the people who make, sell, and use musical instruments and products. It does this through unique exhibitions, vibrant and varied live music performances, and innovative educational programs.
If you or anyone you know is looking to buy or sell their home, give us a call!
760-214-1802